SkinTyte is an infrared deep dermal treatment that uses infrared light to heat the dermal collagen fibres causing them to contract. This treatment tightens and smooths skin. Skintyte feels like a warm massage on the skin. At GVSL our dermal and beauty therapists perform SkinTyte skin tightening treatments. A course of 4 treatments spaced 3-4 weeks apart is recommended.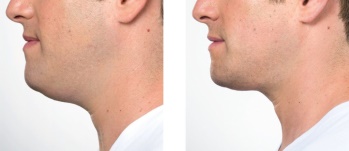 Double chins or pockets of fat (adipose tissue) under the chin can be treated at GVSL with a grid of fat dissolving injections. This treatment often requires 2-3 sessions spaced 6 weeks apart, and is then a permanent solution. Fat dissolving injections are performed at GVSL by our cosmetic nurse Kenlyn, after prescription by our onsite doctors.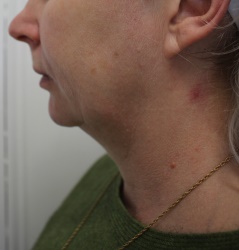 Sculpt Therapy is a collagen biostimulator treatment.  Collagen biostimulator injections are an injectable liquid made of Poly-L-Lactic Acid. It is the synthetic form of lactic acid, which your body produces naturally following exercise.
Dermal filler treatment can improve jowls and an uneven jawline, improving the overall appearance of the neck. An individualised dermal filler plan can be prepared by our cosmetic nurse to address each patient's needs. Filler results last 12-18 months in this area.
For prominent platysmal bands in the neck the optimal treatment is botulinum toxin injections. This treatment will relax these muscular bands, smoothing out the neck. Treatments are completed by our cosmetic nurse or cosmetic doctor. Platysmal band treatments must be repeated every 4-6 months.
Elastense (50ml) is an intense anti-ageing cream dedicated to lifting and firming the neck and décolletage while also reducing the appearance of uneven skin tone and poor texture.
BBL or Broad Band Light is a treatment that addresses redness and brown pigmentation of the skin. BBL also helps improve fine lines and skin texture. This treatment is non invasive (no skin penetration). BBL is also known as photorejuvenation. BBL is performed at GVSL by our dermal therapist and beauty therapist.
Pigmented flat skin lesions (that have been cleared for malignancy by our onsite doctors) can be faded or removed with Revlite laser pigmentation treatment. This laser has a wavelength of light that is attracted to the brown pigment in the skin and shatters this pigment into very small particles that are then absorbed away. This treatment is performed by our dermal therapist.
Skin needling or Dermapen is a treatment that involves a pen device with many oscillating tiny needles that penetrate the skin. Skin needling will improve fine lines and skin texture in the neck. A course of 3 treatments is recommended. Our dermal and beauty therapists both perform skin needling treatments.
Doctor Skin Lesion Removal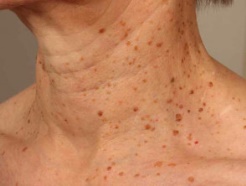 At GVSL we have onsite doctors who can perform skin cancer checks and remove cancerous and symptomatic benign skin lesions. Removal of skin tags, moles, seborrheic keratoses and other raised skin lesions can be done with cryotherapy, laser or shave excisions depending on the lesions type, location and size.