Stress can be a debilitating and unfortunately unavoidable aspect of our lives. 2021 has brought more stress than we ever could have imagined. Often this stress will appear on our skin in the form of redness, breakouts and irritation. Synergie Skin understands that however we are feeling on the inside will often be reflected on the outside, on our skin. Therefore, they have designed a product specifically made for stressed out skin with a calming fragrance to also heal our bodies from the inside out.
Synergie skin De-Stress is a lightweight anti-redness facial oil formulated to instantly hydrate and provide relief for those suffering from inflamed, sensitive or irritated skin.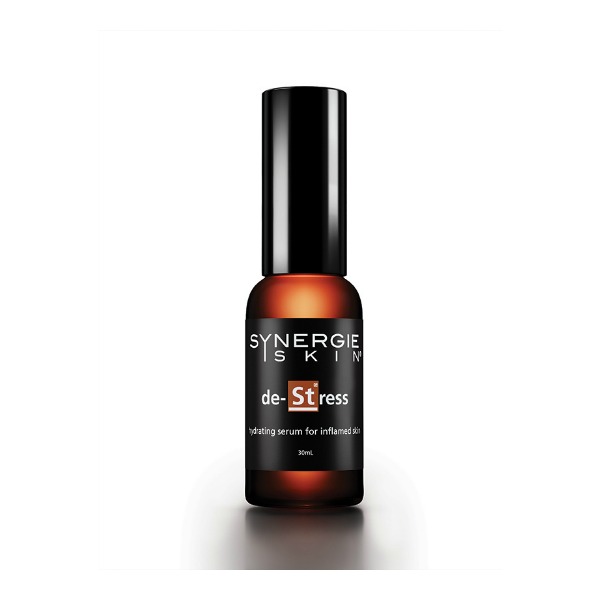 Synergie skin has harnessed the power of skin super- oils to create De-Stress. Pure olive squalene and sea buckthorn oil work together to provide moisture, protection and help to reduce the appearance of sun damage and visible signs of aging. The hero ingredients in this product have proven to be ideal for those with Rosacea, burns, scars, acne, dry and sensitized skin.
Key Ingredients:
Olive Squalene- pure olive concentrates rich omega 2 and 3 fatty acids and bioidentical to squalene in human skin. Rich in antioxidant, vitamins and nutrients, squalene boosts the immune system and helps treat inflammatory skin conditions, Squalene is an antioxidant, provides moisture, protection and aids in scar healing and premature aging.

Sea Buckthorn oil- a botanical extract, rich in phenols, omega fatty acids, vitamins A, E, C and K. Topically applied as a natural treatment for burns, scars, sensitive, dry and acneic skin. This oil reverses UV free radical damage, inflamation and skin redness. This hero ingredient has been used for centuries in Chinese medicine and more recently by cosmonauts to treat radiation burns.

For optimal results this product is ideally paired with
Synergie DermaCalm – A highly active soothing moisturizer designed to reduce the appearance of red irritated skin.

Vitamin B – An essential serum suited to all skin type. Containing high levels of active ingredient vitamin B3 (niacinamide). This formula is designed to rejuvenate and strengthen the skin, enhancing skin clarity and luminosity.

If Synergie De-stress oil sounds like the product for your stressed out skin, please visit us at Geelong Veins Skin & Laser to grab yours today.
Authored by:
Charlotte Woolfe